We work with different types of public and private customers across Norway.
Maintenance of parquet and solid wood floors
In collaboration with our customers, we adapt the maintenance of all wooden floors areas in your home and your company. Woodcare AS works to ensure that wooden floors remain beautiful and durable year after year at the lowest possible cost for our customers. We monitor and adjust the frequency of maintenance in relation to a number of factors, such as load / use, type of surface treatment, etc.
In cases where parquet and solid wood floors are worn, sanding and new treatment are usually good and affordable alternative rather than moving to a new floor. The cool thing is that is better for the environment! We have many years of experience in sanding floors and can offer many different types of surface treatment such as varnish, oil treatment and pigmentation in an infinite number of color combinations. With the help of modern machines and proper handling, we sand floors with minimal dust emission.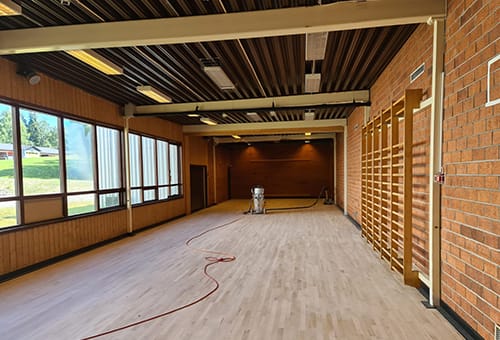 Installation of parquet and solid wood floors
We provide personalized service to our customers. When choosing a new floor, there are different factors to consider and we will be happy to help you to make good decisions. Woodcare AS has good purchase agreements with most suppliers of parquet and solid wood flooring in the Norwegian market and can provide good total solutions to our customers. We also have many customers who buy their own floors and hire us to install. We are flexible and independent!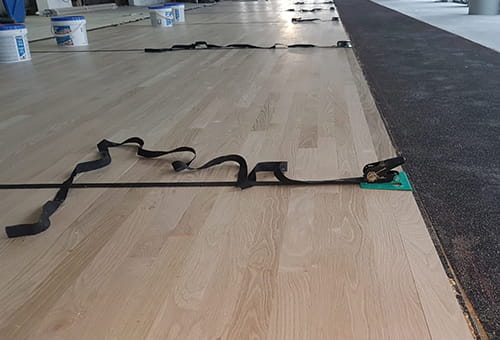 Surface treatment and installation of inner plate
More and more people want to create their own expression using interesting interior materials. For example, we provide oak veneer wall and ceiling panels for various projects. The plates are delivered already finished and treated in the desired color and often in combination or in contrast with the floor color. Here, only imagination can limit us and we are pleased to help in the search for fantastic solutions to our customers. We can also deliver the assembled plates. Isn't it easier?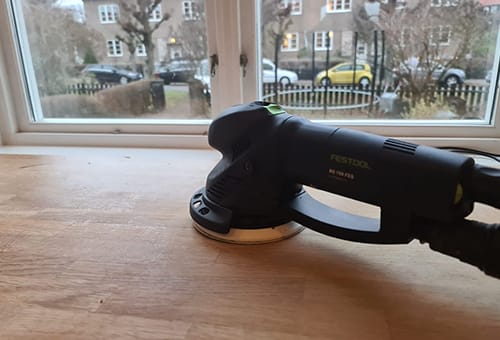 Cleaning, treatment and maintenance of stone floors
Slate, granite, marble, mosaic etc. they must be maintained and protected to remain beautiful and durable. Here, there are also many choices to be made regarding maintenance, cleaning, method and the type of product used. Contact us and we will find good solutions.
Consulting and technical assistance
All of us at Woodcare AS have been working with floors and surfaces for many years and have extensive knowledge in our segment. The amount of theoretical knowledge needed to be proficient in our sector is formidable. The practical experience gained through our many working hours is equally important. We are proud artisans who will be happy to help in the search for solutions to satisfy our customers. Involve us since the beginning of your project, that is when we can better offer our experience!